Our group mat classes are designed for 4-5 people, to allow a high level of personal attention.
We focus on teaching the knowledge around each Pilates exercise, these are complex and multi layered. A strong technique and correct movement patterns are essential, for you to learn the true Pilates techniques. Our small class sizes allow for correction in constructive and specific way. Class participants learn progressively over time; delving deeper into each exercise, discovering new muscles and overcoming the challenges.
Group Class Levels
We offer 2 levels of mat class, both of which have a series of precisely designed and ordered exercises to strengthen, stretch and align the entire body.
Classical Mat Class - is suitable for beginners, improvers and also experienced practitioners who would like to revisit the basics and the detail of each exercise.
Strong Classical Mat Class - is suitable for experienced studio practitioners who have been with us for a while or have demonstrable classical Pilates experience elsewhere. You should be comfortable and familiar with full Intermediate Classical Mat order. Not suitable for beginners or people with injuries.
ADAPTING to Your ABILITY and Fitness Level
Our small class format allows the teacher to adapt the intensity of the mat class to the different fitness levels and abilities of each participant. Easier and harder modifications are given and individual needs are addressed. Every student is encouraged to progress and learn at their own pace. We ensure everyone is body smart and that you do not work through pain.
already advanced in body movement or athleticism
If you are coming from a different discipline and are already advanced in your body movement and athleticism, we still recommend that you do our New Clients Introduction. There should be a quick progression from here through classical mat class to strong classical mat class.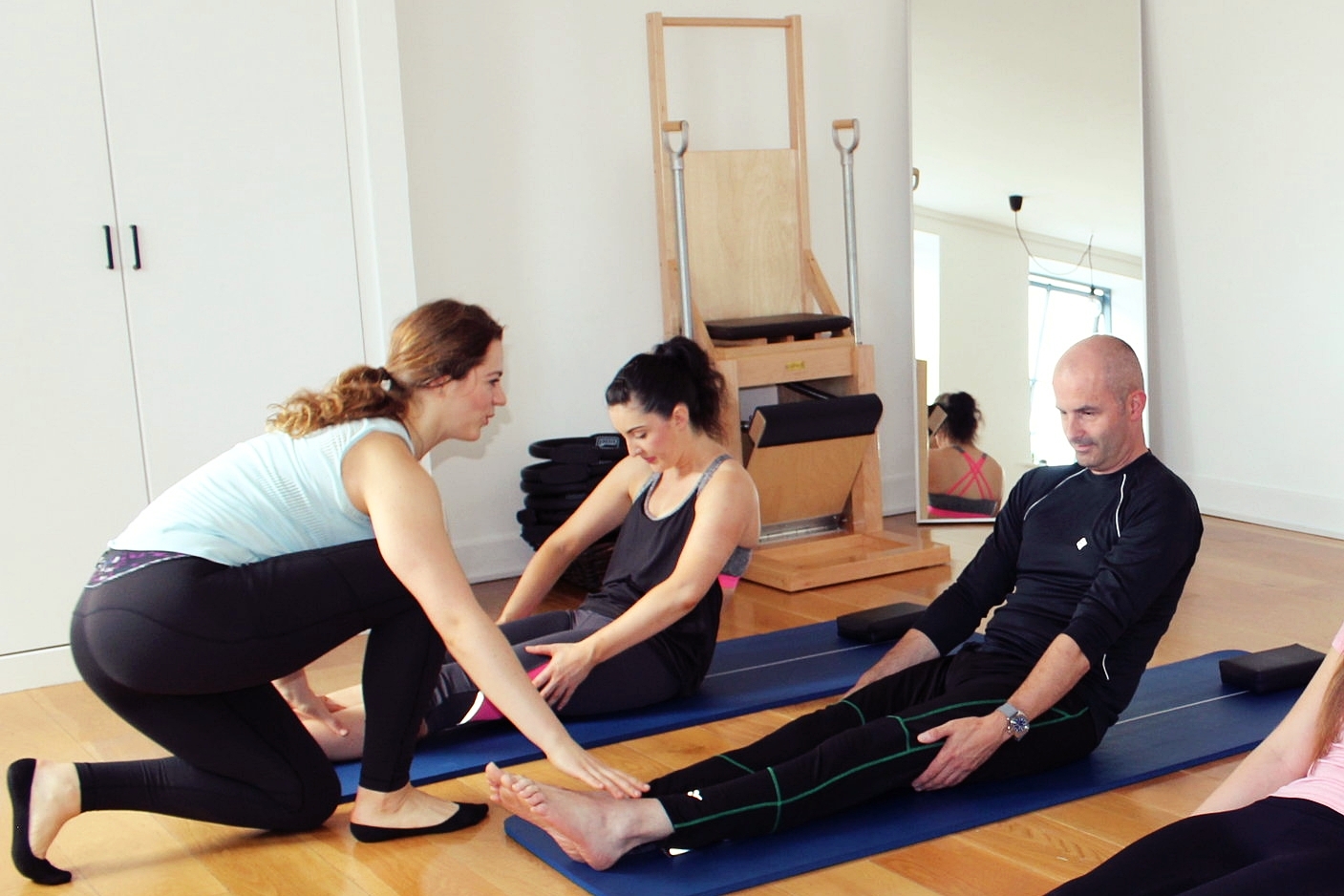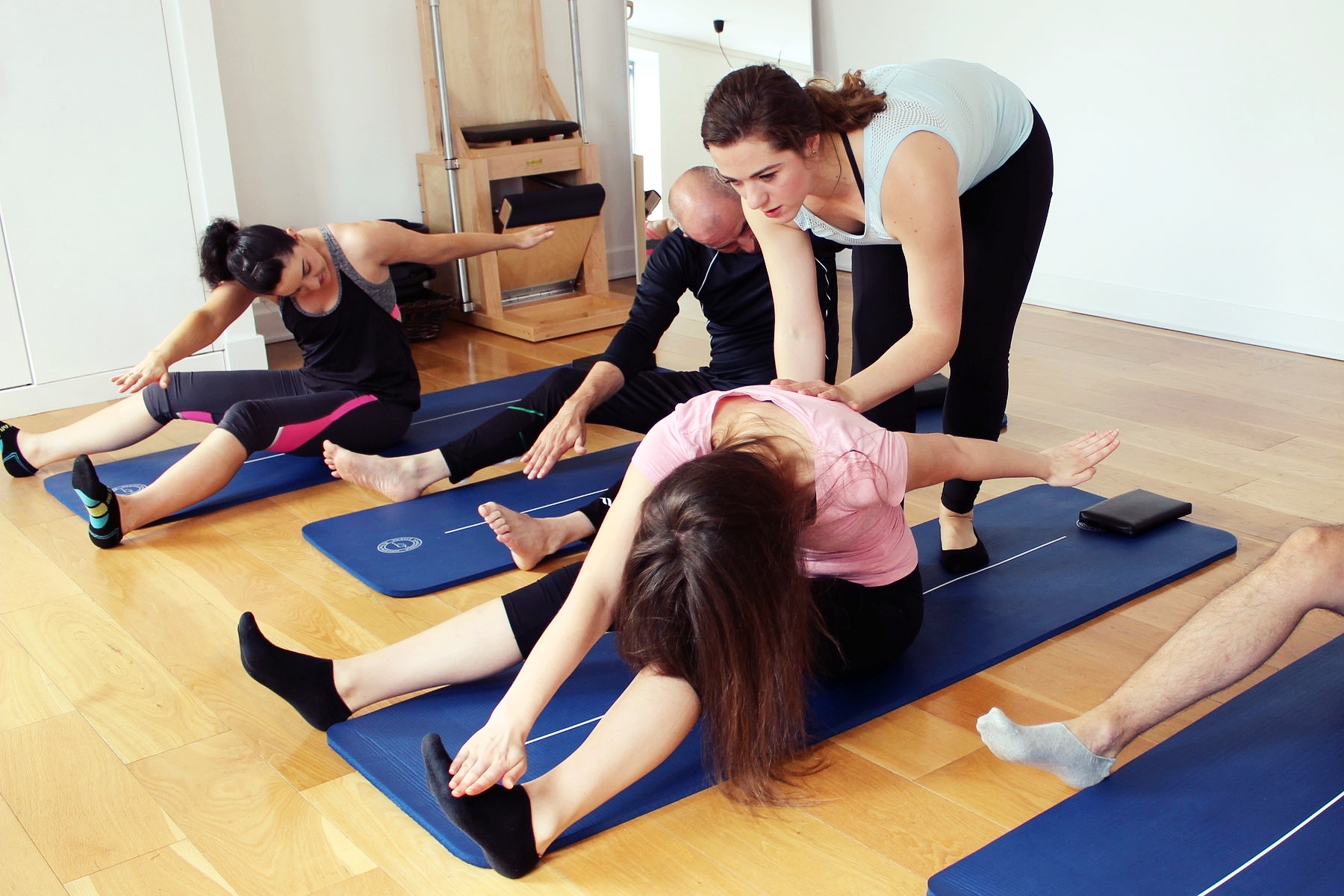 Injury and Group Classes
Participation in group classes with an injury is dependent on the nature of the injury. This will be assessed by your teacher during the New Clients Introduction. Generally minor injuries can be catered for in group classes and major injuries require the one to one interaction of a private session.
We train and have trained people with many different serious injuries and illnesses including multiple sceloris, cancer, scoliosis, hip & knee replacements, osteoporosis, disk hernias and many more. These are always addressed initially in private sessions. Once you have reached a certain level in your Pilates it may be possible to join a group class at the discretion of your instructor. Where private sessions are not a sustainable long term option your teacher will assist you with cultivating a own home practice.
Group Class Bookings & Cancellation Policy
It is a prerequisite to attend at least 2 private sessions prior to joining all our group classes. This is to ensure a suitable level of knowledge to safely participate in group classes.
There is the option to buy a 5/10 class package or to do drop in classes.
5/10 class packages expire in 3/6 months respectively.
Classes are payable upfront and are non-refundable. We accept cash or credit card.
Classes can be booked & cancelled online at your convenience. Early morning classes must be booked by 11pm the previous evening.
Classes can be cancelled up to 6 hours in advance with no charge. Late cancellations incur the full charge, please contact your teacher in case of cancellation due to emergencies.
If you have further questions please see our FAQ section or contact us.